---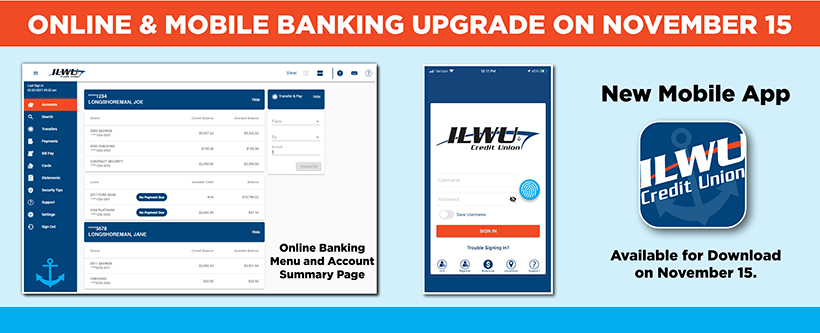 Introducing a NEW Online and Mobile Banking Experience!
To provide a more seamless digital experience for our members, we switched our Online and Mobile Banking provider on November 15, 2021. This upgrade brings new features that our members have been asking for including the ability to quickly change and reset your password, easily lock or unlock your credit or debit cards if you misplace them, make principal only payments, view additional loan and account details, and more!
New Features
The new Online and Mobile Banking is easy to use, view and navigate! Some new features include:
Quickly change and reset your password without having to contact the Credit Union.
Make principal only payments.
Get Quick Balances to quickly see your account balances through the Mobile App without needing to log in.
Set up real time Account Alerts.
Card Controls allow you to easily lock and unlock your debit or credit cards if you misplace them.
Categorize and keep track of your purchases by adding notes and tags to transactions.
Joint owners can now have their own unique username and access.
Set up Savings Jar, a savings round up program!
View additional loan and account details including payoff amounts, and more!
Financial Tracker helps members with budgeting, goals, and allows members to view/access accounts from other institutions all in one place.
Platinum CARGO Rewards Visa cardholders will have access to the CARGO Rewards site to view and redeem points.
Get up to date security tips.
Logging in after our Upgrade on November 15

A new Mobile App will be available to download on November 15, 2021. Apple users will simply need to update their app in the iOS App store. If you are an Apple user and set to automatically update apps, our new app will automatically download when it becomes available. Android users will need to download the new app from the Google Play store by searching ILWU Credit Union. If you are having trouble downloading the new App, please make sure the previous App is deleted from your device.
You will not need to re-enroll in the new system. All you have to do is know your Username and create a new password. If you forgot your Username, please contact us at 866.445.9828.
If your Username does not meet certain criteria, you will be asked to change your Username. Please note: Usernames must be 6 to 20 characters and cannot begin with a number.
You will need to change your password the first time you log in to Online or Mobile Banking after the upgrade. Enter your Username, then click Trouble Signing In? to reset your password. Follow instructions on the email you will receive.
Important Changes To Your Online Banking Experience
Account Alerts
- You will have to set up new account alerts. This can be done by going to the new menu and selecting
Settings -> Alerts
.
External Transfers
- Scheduled external transfers between your ILWU Credit Union account and your account at another financial institution will need to be re-established in the new system. Go to the main menu and select
Transfers->With an External Account
to set this up.
Internal Transfers
- Any transfers scheduled internally between your ILWU CU accounts that were set up previously within Online or Mobile Banking will need to be re-entered after the upgrade on November 15. Go to the main menu and select
Transfers->Transfer Within My Accounts
to set this up
The following features should not be impacted:
Current users will not have to re-enroll in Online or Mobile Banking.
Bill Pay will remain the same and all current payee info should transfer over to the new system.
If you are currently enrolled in eStatements, there will be no change. You simply click on Statements to view your current and previous statements.
Frequently Asked Questions
See FAQs for additional information.
Please call us at 866.445.9828 if you have any issues accessing your accounts. We appreciate your patience and understanding as we continue to enhance our services to make accessing your account information more convenient.