Platinum CARGO Rewards Visa
---

Get the Visa that Rewards YOU!
Earn 1 CARGO Rewards point* for each dollar you spend on purchases with our Platinum CARGO Rewards Visa. Use this Visa on everyday purchases and watch your points stack up! Earn maximum points when you add your Visa to your phone's digital wallet and make it the default card on all your favorite online sites and Apps. There is no limit to how many points you can earn!

You can redeem your points for travel, gift cards, merchandise, cash back or to donate to a local charity. Your options are endless! See CARGO Rewards.
Plus, new cardholders get an Introductory Rate as low as 2.95% APR* on all purchases and balance transfers for the first 12 monthly billing cycles! Transfer over your high-rate credit card balances to start saving immediately!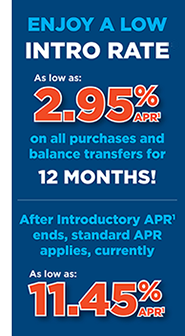 Platinum CARGO Rewards Visa Card Features:
Earn Unlimited Points with CARGO Rewards
Earn 1 Point Per $1 on all Qualified Purchases*
No Annual Fee
Introductory Rates as low 2.95% APR1 for all purchases and balance transfers for first 12 months
After 12-Month Introductory Rate period, non-variable rate as low as 11.45% APR1
No Cash Advance Fees
No Balance Transfer Fees
Visa Fraud Protection
Add to Apple Pay, Google Pay, or Samsung Pay
Securely store the Platinum CARGO Rewards Visa in your phone's digital wallet for quick checkouts when shopping in store or online. It makes purchases easy, convenient, and secure! Learn more about Apple Pay, Google Pay and Samsung Pay!

Get the Visa that Works for You! Appy Today
If you have any questions regarding the Platinum CARGO Rewards Visa, please contact a Loan Representative at 866.445.9828.
Visit our CARGO Rewards page for more details.



1APR= Annual Percentage Rate. Low introductory rate as low as 2.95% APR for 12 months on purchases and balance transfers with a standard rate of 11.45% to 17.95% APR after the 12 months introductory period. Your actual rate and credit line will be determined by your individual credit profile and ability to repay. Cash advance rates range from 13.45% APR - 17.95% APR. Balance transfers and purchases will accrue interest at your approved intro rate for twelve billing cycles from the Visa® open date. Any existing balances on ILWU Credit Union loan and/or credit card accounts are not eligible for the Introductory APR for balance transfers. All loans subject to approval. Rates are subject to change. See Visa Application & Solicitation Disclosure for complete details.

*CARGO Rewards points will not be awarded for balance transfers, cash advances or pin-based transactions.