Online & Mobile Banking Upgrade FAQs
---
When is ILWU Credit Union converting Online and Mobile Banking systems?
The conversion will take place on November 15, 2021.
Why is ILWU Credit Union upgrading Online and Mobile Banking Systems?
Banking technology is constantly changing. Our conversion to these new systems will bring new features that our members have been asking for but will also allow us to quickly develop and deploy new features in the future which will allow us to provide the seamless digital experience that our members expect and deserve.
Is the upgraded system secure?
Yes. Data security is a top priority at ILWU Credit Union, and we have gone through a thorough vetting process to ensure that your financial information is safe and sound.
Will I need to re-enroll?
No, you will not need to re-enroll in the new system. All you have to do is know your Username and set a new password. You will need to download the new Mobile App on your Apple or Android device after the conversion date. If you have your Apple device set to update apps automatically, the new app will update automatically.
What is my Username for the new system?
Your Username is going to be the same as it was before the conversion. If your current Username does not meet certain requirements, you may be asked to change your Username when you first login to the system. New Username requirements:
Username must be 6 to 20 characters

Username cannot begin with a number

Certain characters will not be allowed in the username.
What if I forgot my Username?
Please call us at 866.445.9828 and a Member Services Representative can help you.
Will my password change for the new system?
You will need to change your password the first time you log in to the new Online or Mobile Banking App after November 15. Simply enter your Username, then click Trouble Signing In to reset your password and follow instructions on the email you will receive. The email you enter must match what we have on the system for you.

You can also set up fingerprint or facial recognition on your mobile device for easier future logins! Once logged in, go to the Main Menu and select Settings then Security to enable Touch ID or Facial Recognition.
How will I view my statements?
You will be able to access your statements from our new Online and Mobile Banking solutions by clicking on the Statements option in the menu.
Will I still have access to old statements?
Yes. You will still have access to prior statements. There should be NO IMPACT to your statements.
Will this upgrade affect my direct deposit?
There will be no impact on your automated deposits during this conversion.
How will I know which app is the new app to download?
Our new app will have a different app icon than our current app.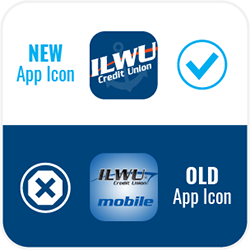 Simply download the ILWU Credit Union Mobile Banking App for your iPhone from the App Store or from Google Play for your Android device.
Will I need to download a new app?
Yes. You will need to download the new app on or after the conversion on November 15. If your Apple device is set to automatic updates, the new app should update automatically.

Simply download the ILWU Credit Union Mobile Banking App for your iPhone from the App Store or from Google Play for your Android device. If you are having trouble downloading the new App, please make sure the previous (old) App is removed from your device.
Will I need to re-register my devices?
Yes. You will need to re-register your device the first time you login after the upgrade.